Geoffrey's Rare Books is Temporarily Closed
Thanks you for visiting Geoffrey's Rare Books! We are currently on vacation and will be returning on April 22nd.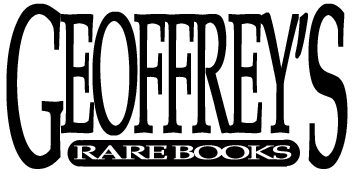 Welcome to the home of Geoffrey's Rare Books. We specialize in Rare and Antiquarian Literature. We offer the First editions of Hawthorne, Melville, Thackeray and Dickens as well as many other classic authors. Primarily 18th and 19th century literary rarities. We also sell Modern Firsts that are signed by the author and we have a large stock of these items. We carry many Fine Bindings from such notable binders as Zaehnsdorf, Bayntun, Riviere, and many other fine craftsmen. Many of our books are housed in Custom made cases that serve as protection for the books. All of these cases are hand-made by our binder and they add to the value and beauty of the offerings. If you are looking for a title or edition that is not listed on our site, please inquire about it as many of our books are not yet listed. Please search or browse our inventory of hard to find, out of print, and rare books. We are limited in the number of pictures that can be placed on the website but we are very pleased to send more pictures of any volume that you might be interested in. Thank you very much for visiting!
If you can't find what you like please fill out our off-line search form and we will search our off-line inventory, other bookstores and book search services for you.